With U.S.-China trade tensions continuing to consume much of the market's attention, it's tough to stay focused on earnings results and other economic indicators that, so far, have remained mostly positive for equities. Indeed, those were the primary drivers for the stock rebound on Friday, along with some positive signals from both President Donald Trump and China on a solution to a trade deal, even after the U.S. acted on its threat and raised tariffs on some Chinese imports to 25% from 10%.
In broader trading, U.S. equities rebounded after initially selling off when tariffs on Chinese imports were hiked. The climbed 114 points on the final day of last week's trade, the gained 0.37% and the rose 0.8%. Of course, it's difficult to predict whether this momentum will continue into the coming week. There's a lot at stake if China retaliates and raises tariffs on U.S. imports.
Amid this ongoing worry, investors will also receive some important earnings results from both big and small companies. Here are the three we believe will be most worth watching:
1. Tilray
The British Columbia-based medical marijuana producer, Tilray Inc. (NASDAQ:), will report first quarter earnings on Tuesday, May 14, after the market close. Analysts, on average, expect a loss of $0.27 a share on sales of $20.16 million as the cannabis producer strives to capture market share after Canada, last October, became the first developed country to allow recreational consumption.
The company expects 2019 revenue to at least triple from 's $43 million, helped by the company's recent acquisition of Manitoba Harvest as well as the company's ability to meet growing U.S. demand for hemp-derived CBD, the non-intoxicating cousin of THC.
But investors haven't been convinced about the company's stock valuation in recent months. Shares skyrocketed 400% in late 2018 after its July IPO last year—at one point briefly hitting $300 per share. However, Tilray now trades just below $50 as of Friday's close.
We see Tilray as one of the long-run winners in the still nascent marijuana industry, but we don't see negative earnings disappearing any time soon. The company continues to invest heavily to increase production and carve out broader market share.
2. Nvidia
One of the U.S.'s largest chip-makers, Nvidia (NASDAQ:) reports first-quarter 2019 earnings on Thursday, May 16, after the market close. Analysts are expecting $0.79 a share profit, down from $2.05 a year ago. Sales are likely to fall 31% to $2.02 billion, according to consensus forecasts.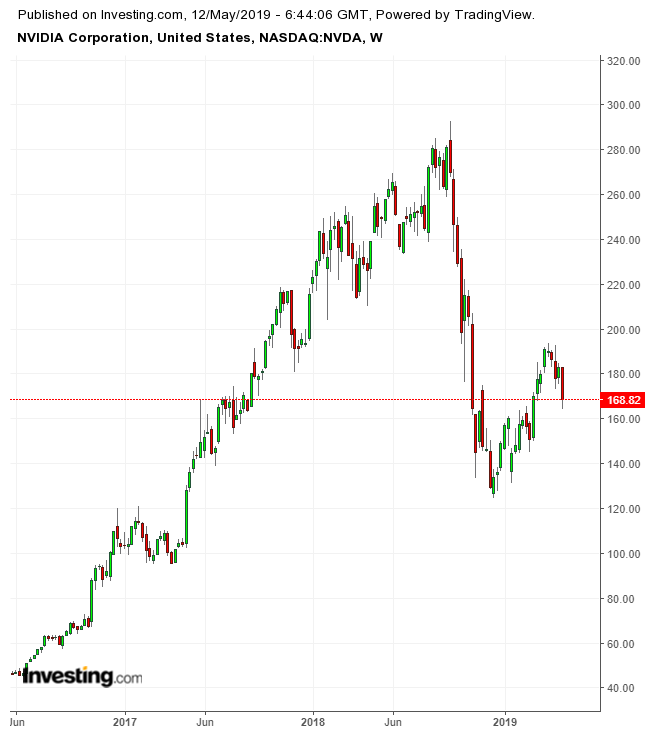 After a massive sell-off of once high-flying semiconductor stocks in the last quarter of 2018, investors are eagerly watching to see some solid signs of a rebound in demand from the company's key markets—gaming and data centers. Shares of the California-based company closed on Friday at $168.82, about 30% higher than the December low.
Still the stock remains nearly 40% below its record high of $292.76, hit in late September, after demand plunged from the peak of last year and the company cut its . In the current environment, we don't see Nvidia stock reaching last year's peak anytime soon as uncertainties over China trade continue to linger.
"Semiconductor suppliers have relatively high 'ship-to' revenue exposure to China," Quinn Bolton, senior semiconductor analyst at Needham, said in a note last week. "This high exposure to China puts the semiconductor sector at greater risk to the escalation in the U.S.-China trade war than many other segments of technology."
3. Pinterest
San Francisco-based, Pinterest (NYSE:) will be releasing its first quarterly report on Thursday, after it began trading publicly on April 18. Analysts consensus calls for a $0.15 loss per share on sales of $200.4 million.
In its , the tech company that provides a digital platform for inspiration boards said it made about $756 million in revenue from online advertisements in 2018, a 60% growth rate from the previous year. Its net loss fell to $63 million in 2018 from $130 million in 2017. Pinterest says 265 million people use the digital scrapbook at least once a month.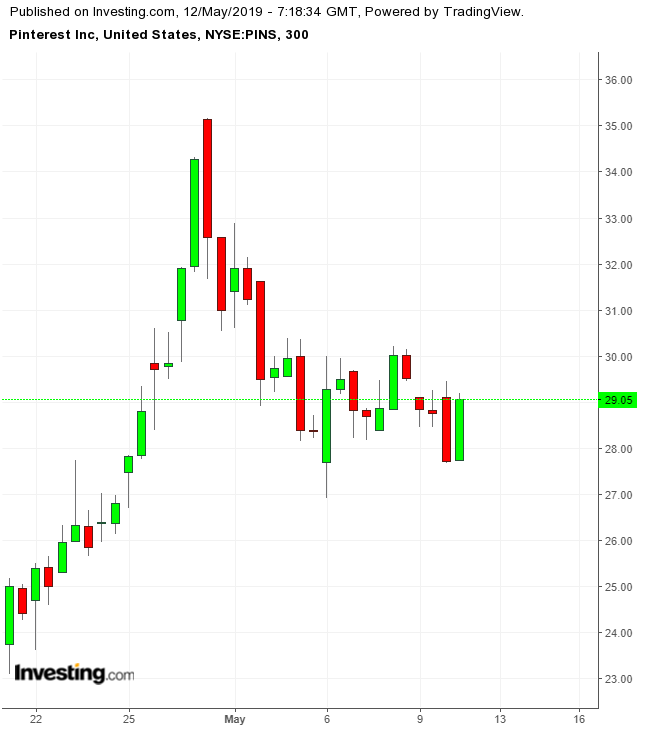 PINS 300 Minute Chart
From its post-IPO peak of $35.29, Pinterest shares have fallen more than 15%, closing at $29.05 a share on Friday. Some analysts have been raising concerns about its growth potential in a crowded digital marketing space. The company is competing with social media giants such as Facebook Inc. (NASDAQ:) and its Instagram app, as well as Alphabet's (NASDAQ:) YouTube. Both have already captured the majority of ad spending in this segment.
But Pinterest—which serves as a sort of digital bulletin board for pictures and ideas for furniture, fashion, weddings, recipes and more—says it offers a different and more targeted platform than these social media giants. Its shares may resume their upward momentum if the company is able to show both user and revenue growth in this past quarter.