Investing in high-yielding dividend stocks carries a lot of risk. Once you buy a stock that is offering a yield greater than the market average, you're basically making a bet that the company's cash flows will continue to support that payout.
Two top American consumer brands—Altria Group (NYSE:), the maker of Marlboro cigarettes, and Ford Motor Company (NYSE:NYSE:)—are offering a similar opportunity if you have high risk tolerance. During the past two years, their shares have been under extreme selling pressure, while their dividend yields have soared. Both stocks are offering close to 6% forward yield—a highly attractive rate of return when compared with the 's average yield of less than 2%.
Taking a deeper look at the problems they're facing will help us understand whether their inflated yields offer an opportunity or a threat that income investors should avoid.
Altria Group: Tight Regulations, Declining Demand
The past two years have been quite a slippery-slope for the U.S.'s largest cigarette company. It's shares have lost more than 30% of their value since the summer of 2017 as tobacco consumption declines consistently and the regulator readies more stringent rules. Altria stocks fell 20% in July 2017 on the news that the FDA plans to regulate nicotine levels in cigarettes so that they are no longer addictive.
As the company's most recent quarterly report shows, demand continues to dwindle. The company's cigarette shipments dropped 14.3% in the first quarter, after a 4.4% slide the previous period. Due to these headwinds, Altria stock, which traded at $77.29 on June 12, 2017, has fallen below $53. This drastic plunge has pushed the stock's annual dividend yield close to 6%, making it attractive for income-seeking investors.
After highlighting these risks, it's also important to note that Altria has been an excellent dividend stock for a very long time. The company has increased its dividend 53 times in the past 49 years, managing an annual dividend growth rate of 8-9% during the past five years.
But a successful history doesn't guarantee that the future will also be bright. Altria's biggest challenge is to diversify its revenue base quickly to compensate for slowing tobacco consumption in the U.S. In that respect, in the past 12 months, Altria made several bold moves to capture new markets.
In December, the company said it will pay $12.8 billion to buy a 35% stake in Juul Labs Inc. a San Francisco-based e-cigarette startup. In the same month, Altria paid $1.8 billion to Canada's Cronos Group Inc (NASDAQ:) to acquire a 45% stake in this marijuana grower.
Ford: Deep Restructuring, Slowing Demand
The world's second-largest automaker has been on a tough road for the last few years. After many years of rising sales, helped by the robust global economy and consumer demand, the car-maker is now facing powerful headwinds: it's undertaking an $11 billion restructuring, after its net income fell by more than half last year. The turnaround will involve canning thousands of salaried jobs, closing factories overseas, and building capacities to manufacture electric and driverless cars.
Last month, the company produced a better-than-expected earnings report for the first-quarter, but only after it slashed expenses and cut jobs. As Ford undertakes this massive restructuring exercise to improve profitability, investors haven't shown much faith. The stock has fallen more than 30% during the past five years on concerns about the sustainability of its generous $0.15-a-share quarterly dividend.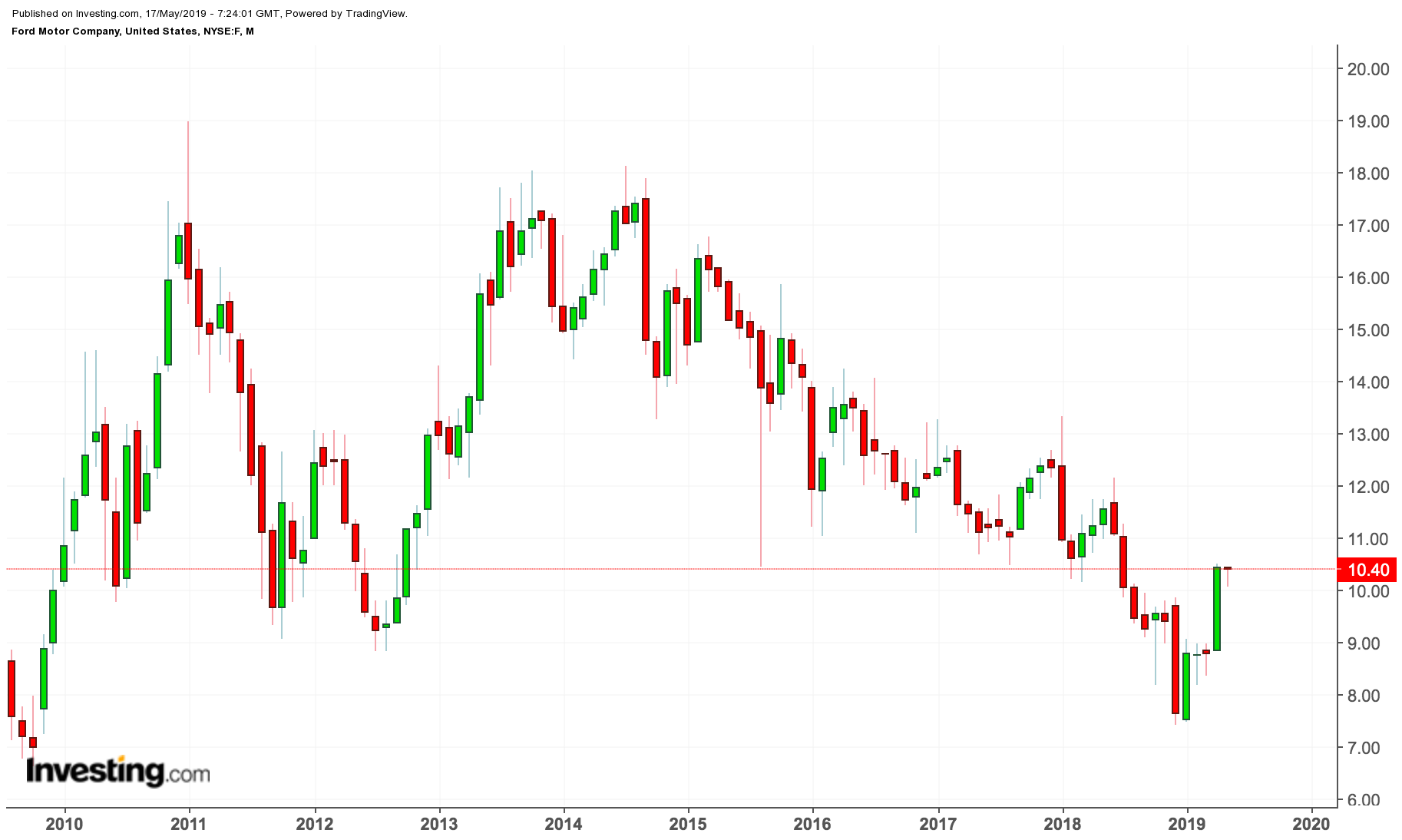 Bearish analysts on Ford stock have built in a potential scenario where Ford's credit-rating could be downgraded soon, and its dividends slashed, if the company's turnaround plan fails to produce results.
"Our stock price kind of languished as a result of us slogging through some very necessary but difficult changes," Bloomberg cited Executive Chairman Bill Ford as saying during the company's annual shareholder meeting last week . "Our goal is to continue to build the business, and our expectation and hope is that the stock price will respond accordingly."
Which Dividend Is Safer?
Both Altria and Ford offer a different risk-reward equation if you have the appetite to take risk. But, in our view, Altria is a better bet, given the company's strong market position and its recent entry into e-cigarette and cannabis markets. Along with its existing 10% stake in Inbev (NYSE:), the largest beer producer in the world, and now sizeable positions in both Juul and Cronos, Altria is a good long-term bet, especially when its dividend yield is at a multiyear high.
Ford, on the hand, is a much riskier proposition to us. In our view, the company's dividend is highly vulnerable if the economy goes into a recession and demand for gas-guzzling big trucks and SUVs evaporates. A similar combination forced Ford to eliminate its dividend in 2006, which it resumed in 2012. Another reason that makes traditional car-makers a less attractive investment option, in our view, is a growing consumer trend in which ride-sharing is becoming a new norm, which eliminates much of the need to own a car.